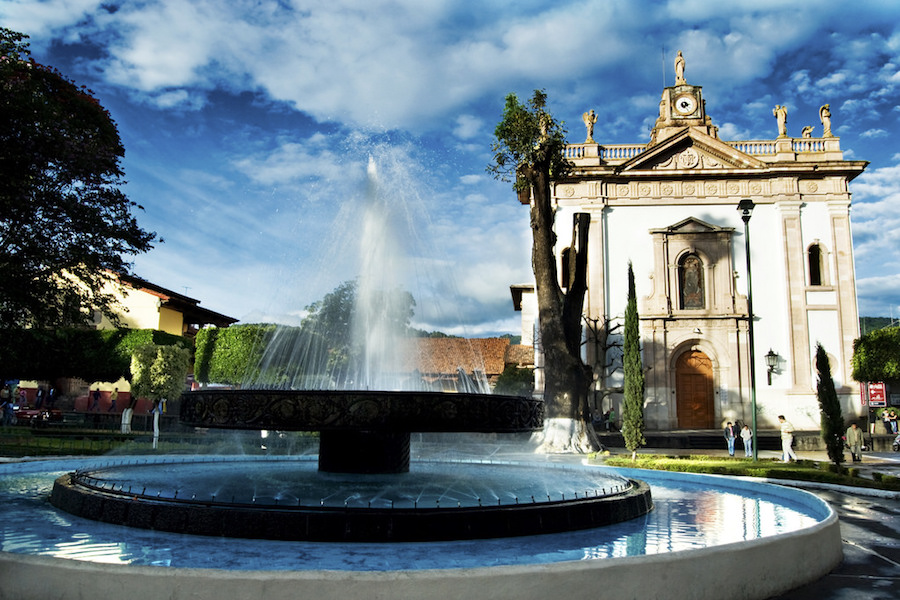 Approximately 60 km. from Pátzcuaro is Uruapan, meaning "place of eternal spring". It is a city that can be proud of being the most important avocado growing region in the world and of having great natural beauty.
A peculiarity of this place is that in one direction is found vegetation characteristic of the mountains, such as different varieties of pine, but in the other direction, corresponding to the "warm earth" , are coconut palms and banana trees and other jungle plants. It is recommended to visit the national park in town, a place of extreme beauty and abundant vegetation, through which passes the Cupatitzio River ("river that sings"), whose source is known as "the devil's knee".
Another place to visit is the "Huatápera", a hospital annexed to the convent of San Francisco and in which is now housed the Museum of Popular Arts. Here you can find and acquire great variety of fine handicrafts characteristic of the region, including trays, masks and other commodities made of wood and finished with beautiful and colorful drawings on a lacquer base (vegetable or mineral powder mixed with wax oil and applied by hand), shawls of Aranza woven by hand in a great variety of designs and materials, and many other attractive products.