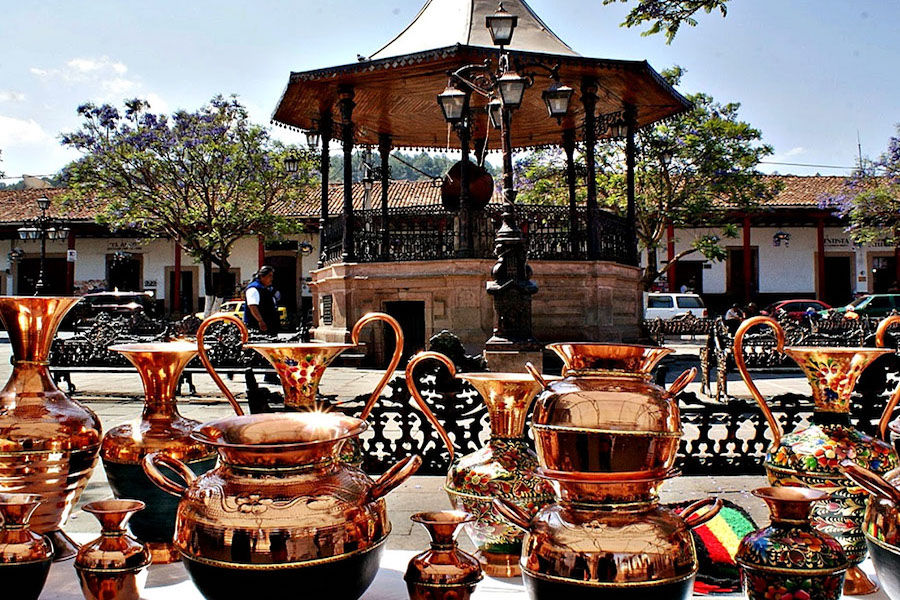 Santa Clara del Cobre is the former name of this city, half an hour from Pátzcuaro, on the road to Tacámbaro.
The fame of this city is due to the crafts manufactured of copper, from which was derived the former name. Many years ago there existed abundant mines of this metal, but during the conquest the former owners of these mines covered them to hide them from the Spaniards and they were never found again. And so, it was natural that the inhabitants of this region were chosen by Don Vasco to work in copper, and their prehispanic techniques are still being used today.
Some of the traditional designs still in use today were modeled by don Vasco himself but it is important to note that every copper piece is unique. All the work is done by hand, individually hammered to obtain the form that the artisan desires. Each year in August, the Copper Fair is held, with participation of artisans throughout the region. Pieces are designed exclusively for this event, and prizes are given for the best work. The Museum of Copper exhibits fine examples of work. In addition, woolen fabrics are made here.